CURRENT PROGRAMS + EVENTS
VIDIOTS IS CURRENTLY PROGRAMMING ONE-OFF EVENTS AND SERIES BOTH VIRTUALLY AND IN PERSON. TO LEARN MORE ABOUT IN-PERSON EVENTS, INCLUDING OUR MONTHLY SERIES WITH ROOFTOP CINEMA CLUB DTLA, PLEASE FOLLOW US ON INSTAGRAM, TWITTER, AND FACEBOOK!
PLEASE JOIN US FOR A SPECIAL CONVERSATION WITH
PLEASE JOIN US FOR A SPECIAL CONVERSATION WITH
PROCESSION
Please join us for a virtual conversation with Director/Editor Robert Greene, Producers Doug Tirola, Susan Bedusa and Bennett Elliott, moderated by filmmaker Ry Russo-Young

Robert Greene – Director/Editor
Robert Greene's previous critically acclaimed film, BISBEE '17, premiered at Sundance, aired on PBS's P.O.V. and was nominated for Best Documentary at the 2018 Gotham Awards. His films include the Sundance award winning KATE PLAYS CHRISTINE (2016), the Gotham Awards nominated ACTRESS (2014) and the Gotham Awards nominated KATI WITH AN I (2010). Robert was an inaugural Sundance Art of Nonfiction fellow in 2015 and has been thrice nominated for Best Director at the Cinema Eye Honors. The Independent named Robert one of their 10 Filmmakers to Watch in 2014 and he received the 2014 Vanguard Artist Award from the San Francisco DocFest. His first documentary, OWNING THE WEATHER (2009), was screened at the COP15 Climate Change Conference in Copenhagen. Robert has edited over a dozen features, including HER SMELL (2018), GOLDEN EXITS (2017), QUEEN OF EARTH (2015) and LISTEN UP PHILIP (2014) by Alex Ross Perry, Nick Berardini's KILLING THEM SAFELY (2015), Amanda Rose Wilder's award winning APPROACHING THE ELEPHANT (2014), Charles Poekel's Spirit Awards-nominated CHRISTMAS, AGAIN (2015) and Douglas Tirola's HEY BARTENDER (2013). He has served as a Sundance Edit Lab Advisor and was on the U.S. Documentary Jury for Sundance 2017. Robert Greene is the Filmmaker-in-Chief for the Murray Center for Documentary Journalism at the University of Missouri, a program he co-created. Robert also writes about documentary for outlets such as Sight & Sound and Hyperallergic.
Douglas Tirola – Producer
Douglas Tirola is an award-winning producer and director. His producing credits include BISBEE '17 (Sundance, NY Times Ten Best Films of 2018, POV), KATE PLAYS CHRISTINE (Sundance Award Winner), Gotham Award nominated ACTRESS and NY Times critic's pick MAKING THE BOYS (Berlin, Tribeca). Douglas' latest film as a director, BERNSTEIN'S WALL, will be released this winter. His previous directing credits include DRUNK STONED BRILLIANT DEAD (Magnolia Pictures, A&E IndieFilms), James Beard Award nominated HEY BARTENDER (Netflix), and Grand Jury Award Winning ALL IN – THE POKER MOVIE (Showtime). His first documentary as a director, AN OMAR BROADWAY FILM, premiered at the Tribeca Film Festival where it was acquired by HBO. BLOODROOT, which premiered at DOCNYC, is also slated for release in 2022. Earlier in his career, he worked on films with directors Robert Benton, Penny Marshall and Mike Nichols. His first job in the film business was as a production assistant on the movie WHEN HARRY MET SALLY.
Susan Bedusa – Producer
Susan Bedusa is an award-winning producer whose most recent completed projects include BERNSTEIN'S WALL (Tribeca), BLOODROOT (DOC NYC, Grasshopper Film), BISBEE '17 (Sundance, POV), BREWMASTER (SXSW, The Orchard), KATE PLAYS CHRISTINE (Sundance) and DRUNK STONED BRILLIANT DEAD (Sundance, Magnolia Pictures, Showtime Networks). Her 14 feature documentaries have all premiered at top festivals including Sundance, Berlin, Tribeca, Hot Docs, and SXSW, and have enjoyed US and international theatrical releases as well as runs on premium cable, global television, and all streaming platforms. Some of her partners include Magnolia Pictures, The Orchard, HBO, Showtime, A&E IndieFilms, POV, Netflix, Amazon, MTV, and the History Channel. Susan began her career working for producers Amy Robinson and Bob Balaban before becoming Director of Development for Fine Line Features founder Ira Deutchman. She grew up working and watching movies at her parents' arthouse theatre, the SoNo  Cinema in Connecticut.
Bennett Elliott – Producer
Bennett Elliott is an Emmy Award winning producer based in New York. She is the producer of Kim Snyder's US KIDS (Sundance 2020), Abel Ferrara's SPORTIN' LIFE (Venice Film Festival 2020) and Robert Greene's Gotham Awards-nominated BISBEE '17 (Sundance 2018). Bennett was the co-producer of Greene's multiple award-winning Sundance documentary KATE PLAYS CHRISTINE (2016). She was selected as a 2017-2018 Sundance Institute Creative Producing Fellow, a DOC NYC "40 Under 40" fellow, and has produced documentary films for David Byrne, Rob Epstein, Jeffrey Friedman and Nan Goldin.
Ry Russo-Young – Moderator
Ry Russo-Young is a bold, innovative director and writer whose work defies traditional limitations in filmmaking. Ry's early independent work has been associated with the mumblecore genre, though she has gone on to direct the wide release features BEFORE I FALL (2017) and THE SUN IS ALSO A STAR (2019) as well as television and commercial projects, including SWEETBITTER, EVERYTHING SUCKS!, and Marvel's CLOAK & DAGGER. Ry's latest project is NUCLEAR FAMILY, a 3-hour limited documentary series based on the true story of her sperm donor suing her lesbian mothers for visitation and paternity rights when Ry was nine years old.  The three-part documentary aired on HBO to critical acclaim.
FYC: A SPECIAL CONVERSATION WITH
LFG
Please join us for a virtual conversation, hosted by Vidiots, to celebrate lFG, with Directors Andrea Nix Fine and Sean Fine, moderated by OscarⓇ-winning documentary director, Cynthia Wade. Vidiots are invited to watch the film through the link and special code below (please note, code is case sensitive): Access code: 832bkSPHz8kU
Andrea Nix Fine + Sean Fine, Directors
Andrea Nix Fine and Sean Fine are OscarⓇ-winning filmmakers and producers whose raw, intimate storytelling style has been hailed by critics as "visually ravishing" and "enormously spirit-raising." Their documentary-short INOCENTE (a coming-of-age story centering on a 15-year-old homeless, undocumented female immigrant in California) won an Oscar® in 2013 and was the first crowdfunded film to earn such a distinction. Previously, the Fines' first feature-length documentary WAR/DANCE, about child soldiers in Uganda, was nominated for an Academy Award® in 2007 and their 2013 HBO film LIFE ACCORDING TO SAM, about Sam Berns and his family's fight to overcome progeria, and won both a Peabody and Emmy® for Exceptional Merit in Documentary filmmaking. In 2021, the Fines launched their impact studio Change Content with an edict to develop true stories into unforgettable narratives and docs that upend the way viewers think and feel about critical issues. They are proud to premiere LFG as the first of many projects that align with Change Content's mission: True stories. True Impact.
Cynthia Wade, Moderator
Cynthia Wade is an OscarⓇ-winning documentary director based in Los Angeles. Her documentaries include THE FLAG MAKERS (in production for National Geographic), GRIT (13 awards, Emmy nomination, PBS), GENERATION STARTUP (Netflix), LIVING THE LEGACY (Sundance Channel), GROWING HOPE AGAINST HUNGER (Sesame Street Prime Time Special, Emmy Winner), MONDAYS AT RACINE (Oscar nominee, HBO), FREEHELD (Oscar winner, HBO), SELFIE (Clio winner), BORN SWEET (Oscar shortlist), SHELTER DOGS (HBO) and GRIST FOR THE MILL (Cinemax). She directs television commercials featuring real people (from Kellogg's Mini Wheats to Dove Real Beauty). Cynthia has won over 60 film festival awards worldwide and holds a Master's Degree in Documentary Film Production from Stanford University. She is represented by WME.
FYC: A SPECIAL CONVERSATION WITH
SIMPLE AS WATER
Please join us for a virtual conversation, hosted by Vidiots, to celebrate SIMPLE AS WATER, with Director Megan Mylan and Vidiots Executive Director Maggie Mackay. Vidiots are invited to watch the film through the link and special code below, please note, code is case sensitive: Access code: gaWPheJCAKsX
Epic in scope but intimate and elegant in feel, SIMPLE AS WATER is a meditation on the elemental bonds between parent and child. A masterful look at the impact of war, separation and displacement, the film takes audiences into Syrian families' quests for normalcy and through the whirlwind of obstacles — to building life anew. Filmed over the course of five years in five countries including Turkey, Greece, Germany, Syria and the US, Mylan's sensitive camera reifies the universal importance of family.
Megan Mylan, Director
Megan creates intimate observational films on complex global issues.  She won an Academy Award for her documentary Smile Pinki and an Independent Spirit Award for Lost Boys of Sudan which was short-listed for an Oscar and named a New York Times Critics' Pick.   Her films have screened theatrically and on television throughout the world including HBO, PBS, ARTE, BBC, NHK, NDTV, Sundance Channel, Doordarshan and TV Brasil. She is the recipient of a Guggenheim Fellowship, and multiple Emmy nominations. She served for several years on the Academy of Motion Picture Arts and Sciences' Executive Committee for Documentary.  Before beginning in documentary, Megan worked with Ashoka, an international development non-profit, in the U.S. and Brazil. She has a Bachelor's from Georgetown University's School of Foreign Service and Masters' degrees in Journalism and Latin American Studies from the University of California at Berkeley where she was also guest director of the Graduate Documentary program.
Maggie Mackay, Vidiots Foundation Executive Director
Maggie developed her interest in film as a child at her local NYC video store, Rare Bird Video, and independent movie theaters including Film Forum, The Quad, and The Waverly. For thirteen years she served as Senior Programmer of the Los Angeles Film Festival and Director of Nominations for the Independent Spirit Awards. While Senior Coordinator of the Sundance Documentary Fund under Diane Weyermann, Mackay was instrumental in securing pivotal funding for documentary filmmakers, including Megan Mylan. Mackay has also held positions at AFI Fest and Aspen Film, among other arts organizations, advocating for filmmakers and connecting audiences to cinema. Mackay returned to her video store roots when she joined Vidiots in 2016 as its first Executive Director. Mackay is currently overseeing the ambitious 2022 relaunch and expansion of Vidiots at the historic Eagle Theatre in Northeast Los Angeles.
FYC: A SPECIAL CONVERSATION WITH
A COP MOVIE
Please join us for a virtual conversation, hosted by Vidiots, to celebrate A COP MOVIE, with Director Alonso Ruizpalacios and The Ross Brothers.
Director Alonso Ruizpalacios takes us deep into the Mexican police force with the story of Teresa and Montoya, together known as "the love patrol." In this thoroughly original and unpredictable documentary, Ruizpalacios plays with the boundaries of nonfiction and immerses the audience into the human experience of police work within a dysfunctional system.
ALONSO RUIZPALACIOS, Director
Alonso is a Mexican film director and screenwriter. He studied at the Royal Academy of Dramatic Arts (RADA) in London. His first feature, Güeros, won over 40 prizes in festivals around the world, including Best First Feature at the Berlinale 2014 as well as awards at San Sebastian, AFI, Tribeca, Havana, among many others. It won five Mexican Academy Ariel Awards, including Best Picture.
Museo, his second feature, starring Gael García Bernal, won the Silver Bear for Best Screenplay at the Berlinale 2018, as well as Best Director in Athens and Morelia, and was the first major release in a foreign language from YouTube Originals. It was nominated for 12 Ariel Awards in 2019.
His short films Café Paraíso, The Cú Bird's Last Song and Verde have been Official Selection at TIFF, Cler- mont-Ferrand, Cannes Critics Week, London Film Fest, Tribeca, and have won over 30 prizes around the world.
He is represented by WME. He's also trying to be a little more patient with his sons Martín and Tomás.
THE ROSS BROTHERS
The Ross Brothers are an American filmmaking team whose credits include the award-winning films 45365 (2009), TCHOUPITOULAS (2012), WESTERN (2015), and CONTEMPORARY COLOR (2017). Born and raised in Sidney, Ohio, and both graduates of the Savannah College of Art and Design, Bill and Turner Ross began work in the film industry in Los Angeles, with Bill as an editor and filmmaking teacher, and Turner in art departments on studio features. But they soon decided to eschew the day jobs of Hollywood and continue the creative partnership they began as kids by making their own films. In the years since, their films have brought them renown as some of the most innovative and interesting documentary filmmakers working today, with a style all their own and always evolving–pushing the art of presenting uninhibited portraits of and journeys through places, with all the complicated, humanistic, and lyrical truth that that entails.
Their work has been featured at museums and film festivals throughout the world, including the Museum of Modern Art, Lincoln Center in New York, the Centre Pompidou in Paris, and the British Film Institute in London. Their work has been supported by the Sundance Institute, the Rooftop Filmmaker's Fund, Cinereach, the San Francisco Film Society and a generous grant from the late Roger Ebert. They were honored as Ambassadors for the American Film Showcase and as Sundance Documentary Institute Fellows. They were named Decade Filmmakers by Cinema Eye Honors, and in 2018 they became members of the Academy of Motion Pictures Arts & Sciences. According to Metacritic, Bill and Turner Ross are the 6th best reviewed filmmakers of the 21st century.
FYC: A SPECIAL CONVERSATION WITH
CONVERGENCE: COURAGE IN A CRISIS
Please join us for for a virtual conversation, hosted by Vidiots, to celebrate CONVERGENCE: COURAGE IN A CRISIS, with
Director Orlando Von Einsiedel and Co-Director Hassan Akkad, moderated by Carol Dysinger.
ABOUT THE FILM
Activists and volunteers work through the darkest days of 2020, galvanizing social change amidst chaos as governments start to fail local communities. This epic, globally spanning and deeply passionate documentary serves as a clarion call that great change can be born of crisis.
DIRECTOR: Orlando von Einsiedel CO-DIRECTORS: Hassan Akkad (UK), Lali Houghton (Peru), Amber Fares (US), Guillermo Galdos (Peru), Juhi Sharma (India), Lieven Corthouts (Belgium), Mauricio Montiero Filho (Brazil), Mohammad Reza Eyni (Iran), Sara Khaki (Iran), Wenhua Lin (China) PRODUCERS: Dan Cogan, Amy Hobby, Laura McNaught and Orlando von Einsiedel
Orlando von Einsiedel is the director of the Academy Award-winning short documentary, THE WHITE HELMETS, which follows the lives of a group of heroic Syrian civilian rescue workers in 2016. The film was released as a Netflix Original and was also nominated for two EMMYs, including for Exceptional Merit in Documentary Filmmaking. His debut feature documentary VIRUNGA charted the story of a group of courageous park rangers risking their lives to build a better future in the Democratic Republic of Congo. BAFTA and Academy Award nominated, the documentary won over 50 international awards including an EMMY, a Grierson and a duPont-Columbia Award for outstanding journalism. The film was also recognised for its role in protecting the Virunga National Park winning a Peabody, a Television Academy Honor and the prestigious 2015 Doc Impact Award. His subsequent feature EVELYN, a deeply personal story and road trip odyssey about the loss of his brother to suicide, won a number of awards including the 2018 British Independent Film Award (BIFA) for Best Documentary. The Evening Standard newspaper called it "Phenomenal" and "Life-changing".
More recent projects include EMMY nominated LOST AND FOUND for National Geographic Documentary Films and BAFTA and Academy Award winning short documentary LEARNING TO SKATEBOARD IN A WARZONE (IF YOU'RE A GIRL) which Orlando executively produced and which grew out of his award winning 2010 short film SKATESITAN: TO LIVE AND SKATE KABUL. Orlando is drawn to telling inspiring stories of humble heroism from around the world, often combining intimate personal narratives with macro level politics, powerful visual aesthetics and on-the-ground journalistic muck-racking. He has worked in impenetrable and difficult environments, from pirate boats to countries experiencing conflict, and has won over 100 international film and advertising awards.
Formerly a professional snowboarder, Orlando has a degree in Social Anthropology from the University of Manchester and is the co-founder of award winning UK film production company Grain Media. He lives in South-East London with his partner and young son.
Hassan Akkad is a photographer and documentary filmmaker from Damascus, Syria. In 2015, he documented his 87-day journey to the UK, which was featured in the BAFTA-winning documentary series EXODUS: OUR JOURNEY TO EUROPE. His memoir, Hope Not Fear: Finding my way from Refugee to Filmmaker to NHS Hospital Cleaner and Activist will be published in 2021.
Carol Dysinger is a filmmaker, writer, artist, and educator, whose contemporary work offers a counter-narrative to traditional stories of conflict. Dysinger has led a varied career that includes working in the theatre as an actor; editing music videos for The Clash; winning a Student Academy Award® for her short narrative film,16Down; writing screenplays for 20th Century Fox, Disney, and HBO Independent; and editing feature length narrative and documentary films. Dysinger's feature directorial debut, Camp Victory, Afghanistan, screened at MoMA, SXSW, Human Rights Watch Film Festival, and The Hague. Dysinger directed the Academy Award®- and BAFTA®- winning short documentary Learning to Skateboard in a War Zone (if you're a girl) for A+E Indie Films, which tells the story of Skateistan, a non-profit organization in Kabul that brings together underprivileged girls to teach them reading, writing, math, and skateboarding. Her newest work is a multimedia installation, called One Woman War (1WW), which will draw from decades of memoirs and family history as well as footage shot over 15 years in Afghanistan, aiming to take down the veil between human experience, story, and history. She received a Guggenheim Fellowship for One Woman War (1WW) and is collaborating with Kevin Cunningham of Three Legged Dog and Aaron Louis Of MoMA on the project.
Dysinger is an Associate Professor at New York University's Tisch School of the Arts, Maurice Kanbar Department of Graduate Film and Television and the Interactive Telecommunications Program and a longtime consultant for the Sundance Documentary Labs. As a much sought-after story and editing advisor for documentaries and hybrid work around the world, she has contributed and consulted on many award-winning films, including Strong Island directed by Yance Ford, One Child Nation directed by Nanfu Wang, and Camera Person andDick Johnson is Dead both directed by Kirsten Johnson.
She is a Fellow at The Fordham Law School's Center on Justice and Security and a member of Writers Guild of America West.
VIDIOTS MOVIE TRIVIA!
VIRTUALLY!
MONTHLY ON SUNDAY EVENINGS VIA ZOOM
DATES ANNOUNCED ON SOCIALS AND VIA EMAIL NEWSLETTERS
GAMES START AT 5:30PM PST/8:30PM EST, VIRTUAL "DOORS" AT 5:15PM
Our long-running, signature Movie Trivia is now happening virtually! Join us every month to share your movie knowledge in the most fun and challenging game of film trivia on the planet (#stayinghumble). All you need to play is access to the internet from a computer or phone. 
Every month Vidiots invites special Guest Hosts to join the Vidiots crew with a special round of questions! Past Guest Hosts have included DJ Lance Rock; filmmakers Jocelyn DeBoer + Dawn Luebbe; Producer Angel Lopez; Vidiots friends and mega-cinephiles Marya Gates, creator of #Noirvember + Kate Hagen of the Black List; the amazing team from Free the Work; pod-caster/programmer extraordinaire Drea Clark + writer/ultra-movie-lover Jordan Crucchiola; and author/Blaxploitation expert/Vidiots BFF Josiah Howard.
Please reach out to Robbie at info@vidiotsfoundation.org with any general questions about Trivia.
VIDIOTS FOUNDATION 2021 OSCARⓇ NOMINEE TRIBUTE + CONVERSATION SERIES
Please join Vidiots and friends for a very special series of OscarⓇ Nominee Tribute and Conversations featuring nominees from some of the most accomplished films of the year.
VIDIOTS OSCARⓇ NOMINEE TRIBUTE + CONVERSATIONS INTRO
Vidiots Executive Director, Maggie Mackay, introduces the OscarⓇ Nominee Tribute + Conversations.
AN OSCARⓇ NOMINEE TRIBUTE + CONVERSATION WITH JUDAS AND THE BLACK MESSIAH
Watch OscarⓇ-nominated writers, Keith + Kenny Lucas, and Will Berson in conversation with Katey Rich, deputy editor of VanityFair.com, discuss JUDAS AND THE BLACK MESSIAH. Hosted by Vidiots Foundation with thanks to Warner Brothers for their generous support.
AN OSCARⓇ NOMINEE TRIBUTE + CONVERSATION WITH THE FATHER
Watch OscarⓇ-nominated director, Florian Zeller, in conversation with OscarⓇ-winning costume designer, Mark Bridges, discuss THE FATHER. Hosted by Vidiots Foundation with thanks to Sony Pictures Classics for their generous support.
AN OSCARⓇ NOMINEE TRIBUTE + CONVERSATION WITH NOMADLAND
Watch OscarⓇ-nominated producer Mollye Asher in conversation with Katey Rich, deputy editor of VanityFair.com, discuss NOMADLAND. Hosted by Vidiots Foundation with thanks to Searchlight Pictures for their generous support.
AN OSCARⓇ NOMINEE TRIBUTE + CONVERSATION WITH DO NOT SPLIT
Watch OscarⓇ-nominated director, Anders Hammer, in conversation with OscarⓇ-nominated producer Gary Byung-Seok Kam (甘 秉 錫), discuss the short documentary DO NOT SPLIT. Hosted by Vidiots Foundation with thanks to Field of Vision + Cinetic Media for their generous support.
AN OSCARⓇ NOMINEE TRIBUTE + CONVERSATION WITH WOLFWALKERS
Watch OscarⓇ-nominated directors, Tomm Moore and Ross Stewart, in conversation with Claudia Puig, President of the Los Angeles Film Critics Association, discuss WOLFWALKERS. Hosted by Vidiots Foundation with thanks to AppleTV for their generous support.
ABOUT THE NOMINEES + HOSTS
Mollye Asher is a Gotham Award winning producer and winner of the 2020 Producers Award from the Film Independent Sprit Awards. Most recently, she produced Carlo Mirabella-Davis' SWALLOW (IFC Films), which won 'Best Actress' at the 2019 Tribeca Film Festival, and Chloé Zhao's THE RIDER (Sony Pictures Classics). THE RIDER premiered in the 2017 Cannes Directors Fortnight and won its top prize. It went on to be nominated for four Independent Spirit Awards, including 'Best Picture' and won 'Best Feature' at the 2018 Gotham Awards. Other credits include the 2014 SXSW Grand Jury Prize winner, FORT TILDEN (Orion), by writer/director team, Sarah-Violet Bliss and Charles Rogers, Anja Marquardt's Spirit Award nominated film, SHE'S LOST CONTROL (Berlinale, Monument Releasing) and Chloé Zhao's debut feature Songs MY BROTHERS TAUGHT ME(Sundance, Cannes, Kino Lorber). She recently co-founded the production company, The Population, with Mynette Louie and Derek Nguyen and is currently in post-production on Josef Kubota Wladyka's thriller, CATCH THE FAIR ONE. It stars champion boxer, Kali Reis and is executive produced by Darren Aronofsky and Protozoa. Mollye earned her MFA in Film from NYU and is a member of the Academy of Motion Pictures. Mollye Asher is a Gotham Award winning producer and winner of the 2020 Producers Award from the Film Independent Sprit Awards. Most recently, she produced Carlo Mirabella-Davis' SWALLOW (IFC Films), which won 'Best Actress' at the 2019 Tribeca Film Festival, and Chloé Zhao's THE RIDER (Sony Pictures Classics). THE RIDER premiered in the 2017 Cannes Directors Fortnight and won its top prize. It went on to be nominated for four Independent Spirit Awards, including 'Best Picture' and won 'Best Feature' at the 2018 Gotham Awards. Other credits include the 2014 SXSW Grand Jury Prize winner, FORT TILDEN (Orion), by writer/director team, Sarah-Violet Bliss and Charles Rogers, Anja Marquardt's Spirit Award nominated film, SHE'S LOST CONTROL (Berlinale, Monument Releasing) and Chloé Zhao's debut feature Songs MY BROTHERS TAUGHT ME (Sundance, Cannes, Kino Lorber). She recently co-founded the production company, The Population, with Mynette Louie and Derek Nguyen and is currently in post-production on Josef Kubota Wladyka's thriller, CATCH THE FAIR ONE. It stars champion boxer, Kali Reis and is executive produced by Darren Aronofsky and Protozoa. Mollye earned her MFA in Film from NYU and is a member of the Academy of Motion Pictures.
Will Berson is a native New Yorker whose career began in comedy, writing on shows such as "Scrubs" and teaching and performing at the UCB Theater. He transitioned to drama, developing pilots with David Milch and Edward James Olmos, and producing the Amazon dramedy pilot "Sea Oak," starring Glenn Close. In 2014, Berson was a WGAW Writers Access Project Honoree for his pilot "Elsinore," and in 2020 he was named one of Variety magazine's 10 Screenwriters to Watch. His new full-length play, "The Wonderful Women of William M. Marston," is slated to be produced at the Rose Theatre in London.
Mark Bridges was born and raised in Niagara Falls NY, and arrived in Hollywood in 1989 to be assistant costume designer to Richard Hornung on "The Grifters", and subsequently assisted Hornung on "Barton Fink", "Doc Hollywood", "Natural Born Killers", "Dave" and "Nixon". As a Costume Designer Mark began working with director Paul Thomas Anderson in 1995 on Anderson's first feature "Hard Eight" and has collaborated with Anderson on all nine of his films over the following 25 years; "Boogie Nights" " Magnolia" "Punch Drunk Love", " "There Will Be Blood", "The Master", "Inherent Vice" "Phantom Thread" and the recently completed "Untitled PTA Project. Mark is a two time Oscar, BAFTA and Critic's Choice award winner, for "The Artist" in 2012 and for "Phantom Thread" in 2018. Mark's other Costume Design credits include "Blow, "Eight Mile", "The Italian Job", "The Fighter", "Silver Linings Playbook", "Captain Phillips", Fifty Shades of Grey", "Jason Bourne", "Marriage Story", "Joker" and "News of the World".
Gary Byung-Seok Kam (甘 秉 錫) is the first ever Korean documentary producer nominated for an Oscar and is a member of the Academy of Motion Picture Arts and Sciences (AMPAS). He produced PLANET OF SNAIL (2011) which was the first Asian documentary that won Best Feature-Length Documentary at the Int'l Documentary Festival Amsterdam (IDFA) and many more international awards. His recent filmography includes an Oscar nominated film IN THE ABSENCE (2018), SHADOW FLOWERS (2019) and CROSSING BEYOND, the official Olympic film for the 2018 PyeongChang Winter Olympics. Currently he is producing TOUCH THE COLOUR, a story of a wrongfully accused Muslim sister who has been imprisoned for 19 years with a lifetime sentence for keeping a missing boy in Philippines, NO WINTER HOLIDAYS, a story of two Dalits (the untouchables) women who guard an empty, snowed-in Himalayan village for the whole winter in Nepal. After directing various genres of TV programmes of the Munwha Broadcasting Corporation (MBC) for 10 years, Gary has been an independent filmmaker since 2006 and is renowned as a creative producer and documentary tutor in the Asian region. He has been mentoring hundreds of documentaries at the various documentary forums in Asia.
Anders Hammer has filmed and directed the documentary Do Not Splitwhich takes us within the heart of the Hong Kong protests that started in the summer of 2019. The movie premiered at the Sundance Film Festival and received the Special Jury Prize at AFI DOCS and Special Jury Recognition for Courage under Fire at DOC NYC.Hammer directed the documentary series Our Allies for Field of Vision. He also directed and produced Escape from Syria: Rania's Odyssey, which was published by The Guardian and won a Webby Award and a One World Media Award for Best Refugee Reporting in 2018. The documentary went viral and gained more than 10 million views and 100,000 shares in social media. Hammer is one of the directors of the documentaryExit Afghanistanpublished by Netflix. He has directed seven documentaries for the Norwegian investigative journalism program NRK Brennpunkt and many short documentaries. Hammer lived and worked in Afghanistan for six years and has written four documentary books about the country, one of them together with the Danish author Carsten Jensen. In Norway, where Hammer was born in 1977, he has received the Fritt Ord Award (which is given in support of freedom of expression), the International Reporter's Journalism Award and the Big Journalist Award.
Keith and Kenny Lucas, The Lucas Brothers, continue their rise as two of the freshest, most dynamic new faces in entertainment. Coming up, The Bros are two of the writers (story by) on the highly anticipated film JUDAS AND THE BLACK MESSIAH, and will be writing and starring in a new comedy feature with Universal and Lord Miller as well as a reimagined reboot of REVENGE OF THE NERDS with 20th Century Studios and Seth Macfarlane. Keith and Kenny are writers on the much buzzed about dramatic Warner Bros feature JUDAS AND THE BLACK MESSIAH, starring Daniel Kaluuya (GET OUT, BLACK PANTHER) and Lakeith Stanfield (GET OUT, Atlanta). JUDAS, the story of Fred Hampton, Chairman of the Illinois Black Panther Party, and his fateful betrayal by FBI informant William O'Neal, premiered on February 12th, 2021 and is an Oscar Nominee favorite in multiple categories. As products of violent and poverty-ridden inner-city Newark, NJ, the guys are fast becoming a sought after voice in the national conversation around the PTSD caused by systemic racism. Senator Cory Booker (D-NJ) is a fan and has collaborated with them on discussions on topics ranging from drug laws to civil rights. Vulture recently published their poignant essay "Our Brother Kaizen" about their experience growing up in Newark with future mass shooter Kaizen Crossen, and PBS Newshour interviewed them about inner city "Survivor's Guilt." On the comedy side, The Lucas Bros will be writing and starring in a reimagined reboot of REVENGE OF THE NERDS, produced by Seth MacFarlane and 20th Century Studios. They are also writing and starring in a new comedy feature with Universal and Lord Miller, whom they collaborated with for the hit feature 22 JUMP STREET, and they will be seen starring opposite Lil Rel Howery in Jermaine Fowler's comedy THE COME UP (New Line).  "In a short time….The Lucas Brothers have made a big impact on comedy," lauds Vulture, and in April 2017, the guys' hour standup special, The Lucas Bros: On Drugs premiered on Netflix. Paste Magazine, Complex, Uproxx, and Splitsider all named it as one of the top specials of 2017. Keith and Kenny have been seen in CNN's The History of Comedy as well as HBO's Crashing, Executive Produced by Judd Apatow. They were also recurring characters on Netflix's Lady Dynamite starring fellow comic Maria Bamford, and they wrote for TNT's 2017 NBA Awards. They are the creators of the animation series The Lucas Bros Moving Co., which aired for one season on FOX's Animation Domination Hi-Def block in 2014 and for a second season on FXX. The brothers voiced the series' main characters; narrating hilarious, absurdist tales with, as The New York Times praised, "a disarming sweetness and a clever, stylized casualness." The brothers also hosted the web series The Super Late Morning Show on ComedyCentral.com and starred in TruTV's weekly sketch comedy series Friends of the People. They also appeared in the blockbuster summer comedy feature film 22 JUMP STREET alongside Jonah Hill, Channing Tatum, and Ice Cube. The guys made their latenight debut when they performed standup on Late Night with Jimmy Fallon in 2012 and have been a favorite on Fallon's Tonight Show ever since, with multiple appearances. They were named one of Variety's 10 Comics to Watch of 2014, featured in Rolling Stone Magazine's "Hot List," appeared on the cult hit TV show Arrested Development(Netflix) and HBO's Funny As Hell, and were standouts at the prestigious Montreal Just For Laughs Comedy Festival with Paste Magazine selecting The Bros as one of the top acts of 2017. Bret "The Hitman" Hart is their favorite person of all time.
Tomm Moore is Partner & Creative Director of Cartoon Saloon and an ACADEMY AWARD® Nominated Director. Over the Cartoon Saloon's history, Tomm has worked as Director, Art Director, Storyboarder, Animator and Illustrator on a range of projects from commercials to service work for feature films and TV series, as well as a number of short film projects. Tomm has directed 3 universally successful feature films. All were nominated for Best Animated Feature at the Academy Awards® The Secret Of Kells in 2010 and the spiritual follow-up, Song of the Sea in 2015 and the final of the trilogy WolfWalkers in 2021. Tomm also codirected the "On Love" segment for The Prophet, a feature animation produced by Salma Hayek based on one of the best-selling books of all times. Tomm's has just finished directing with Ross Stewart Cartoon Saloon's next feature film project WolfWalkers which launched on Apple TV at the end of 2020. Tomm Moore received the Directors Guild Of Ireland and America Finder's Series Award in 2008 and European Director of the year at Cartoon Movie in 2009.
Claudia Puig is president of the Los Angeles Film Critics Association and a nationally recognized entertainment journalist. Currently a critic for NPR's Film Week and contributor to NPR's Morning Edition, she was USA Today's film critic for 18 years and host of The Screening Room video series. Prior to that she was a Los Angeles Times staff writer for 11 years. Claudia was a speechwriter for AMPAS and is currently program director for the Mendocino Film Festival.  Much in demand as a moderator for entertainment industry Q&As, she has a consulting business specializing in film analysis and diversity consulting and also teaches a college class on Diversity in the Media. A native Spanish speaker, Claudia studied at Universidad Ibero-Americana in Mexico City. She has a B.A. in Communications Studies from UCLA and an M.A. in Communications from USC's Annenberg School. She was recently featured in the Los Angeles Times as one of 14 film critics making media more inclusive and is the winner of the Roger Ebert Award for Excellence in Film Criticism from the African-American Critics Association.
Katey Rich is the deputy editor of VanityFair.com, and the co-host of the LIttle Gold Men podcast. She has been covering film, television, and awards season for 15 years now, and is a graduate of the Wesleyan University film studies program.
Ross Stewart is an Irish artist working in painting, illustration and animation, notably conceptual design and art direction. Ross is currently directing 'Wolfwalkers' with Tomm Moore in Cartoon Saloon, due to be released in 2020. He has recently been involved in 3 Oscar nominated feature films; as Art Director on 'The Secret of Kells' (2009), Visual Development and Conceptual artist on 'ParaNorman' (2013), Concept Artist on 'Song of the Sea' (2015) and has worked on many other award winning animated short films, in an art directing, background producing, conceptual or directing role. Most recently he was Co-Director with Tomm Moore on an animated segment 'On Love' for the feature film 'The Prophet'(2015). His personal artwork is semi abstract; based on drawn studies but organically developed, focussing on the atmosphere and mood of the piece, rather than the representational form. His highly textured mixed media paintings suggest wide expanses of bog or moor, solitary trees or natural forms with vivid, intricate details submerged under glazes of earthy colours. Ross Stewart has exhibited across Ireland and the UK over the last 16 years and his work is held in public and private collections internationally.
Florian Zeller is an award-winning French novelist, playwright and director. He is, according to the Times of London, "the most exciting playwright of our time." He has written more than 10 plays, including The Father, The Mother, The Truth, The Lie, The Height of the Storm and most recently The Son, which premiered in London in 2019. His plays have been staged in more than 45 countries. The Father, is one of the outstanding hits of recent years and was described as "the most acclaimed new play of the last decade" by the Guardian, and has won several awards in Paris, London and New York. The Father is Florian's first film as a director.
STRAY
DIRECTED BY ELIZABETH LO
PROCEEDS BENEFIT VIDIOTS + OUR RELAUNCH WHEN YOU WATCH THROUGH THIS UNIQUE LINK!
Dog and animal lovers that we are, Vidiots is very proud to partner with Magnolia Pictures to bring Elizabeth Lo's extraordinarily beautiful, thought-provoking, and hopeful documentary STRAY to a sofa nearest you. Invite your fuzzy friends along for the watch . . .
MORE ABOUT THE MOVIE . . .
Through the eyes of three stray dogs wandering the streets of Istanbul, STRAY explores what it means to live as a being without status or security. As they search for food and shelter, Zeytin, Nazar and Kartal embark on inconspicuous journeys through Turkish society that allow us an unvarnished portrait of human life — and their own canine culture. Zeytin, fiercely independent, embarks on solitary adventures through the city at night; Nazar, nurturing and protective, easily befriends the humans around her; while Kartal, a shy puppy living on the outskirts of a construction site, finds refuge with the security guards who care for her. The disparate lives of Zeytin, Nazar and Kartal intersect when they each form intimate bonds with a group of young Syrians who share the streets with them. Whether they lead us into bustling streets or decrepit ruins, the gaze of these strays act as windows into the overlooked corners of society: women in loveless marriages, protesters without arms, refugees without sanctuary. The film is a critical observation of human civilization through the unfamiliar gaze of dogs and a sensory voyage into new ways of seeing.
TRT: 72 Mins.
Writer/Director/Producer/Cinematographer/Editor: Elizabeth Lo
Producer: Director: Shane Boris
PLEASE NOTE: Viewers who wish to cast the film to their TVs may do so via AirPlay and Chromecast enabled devices; there are also dedicated Eventive apps available on Apple TV and Roku. For viewers who require assistance for this or any other matter, please visit Eventive's FAQ and live chat support.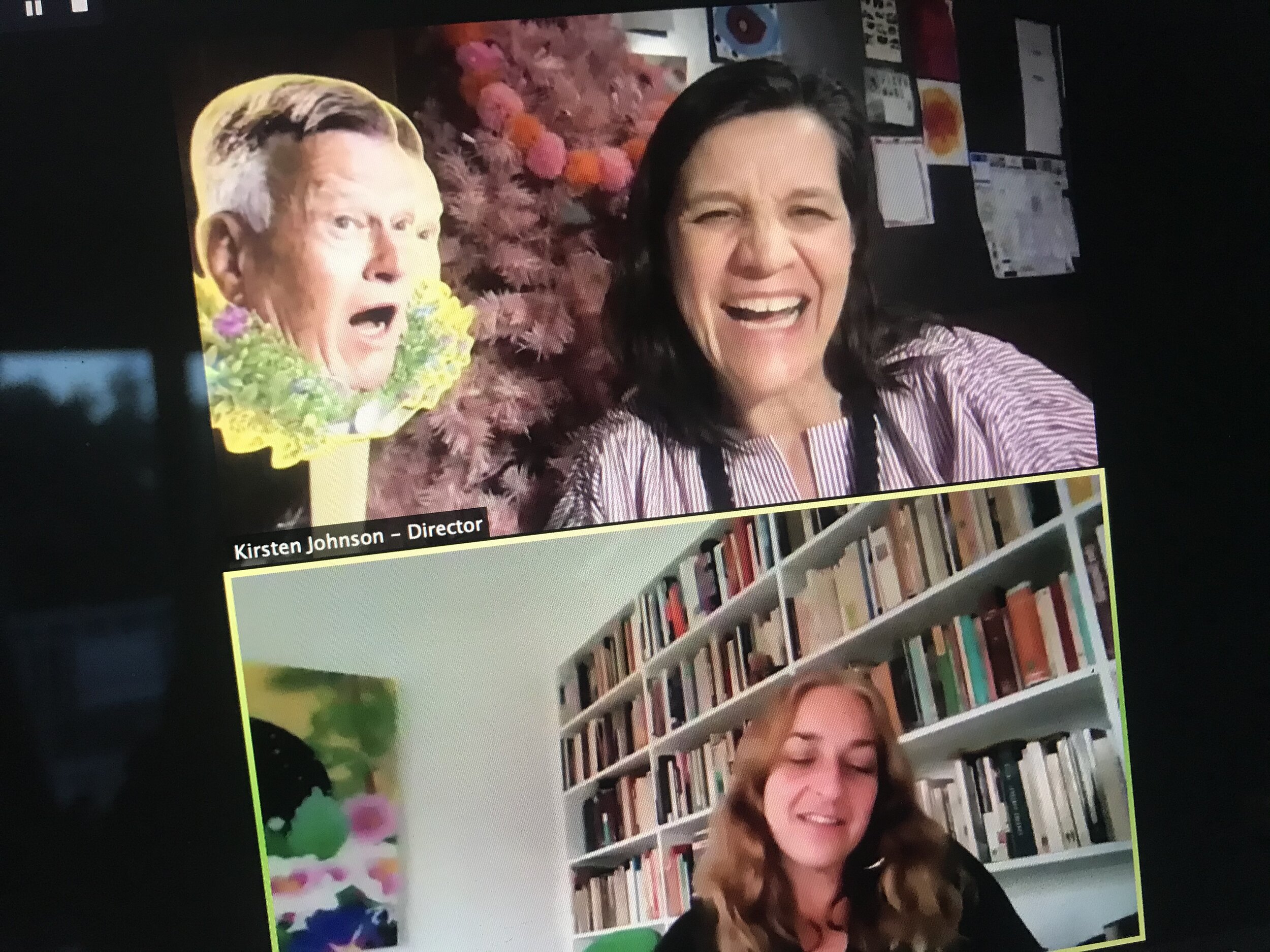 VIDIOTS IS PROUD TO HAVE PARTNERED WITH MANY DISTRIBUTORS AND COLLABORATORS TO VIRTUALLY BRING AUDIENCES FILMS WE LOVE, THAT EXEMPLIFY OUR MISSION AND BELIEF IN THE POWER OF CINEMA TO ENTERTAIN, ENLIGHTEN, AND CHANGE OUR LIVES FOR THE BETTER.
YOU MUST REMEMBER THIS:
POLLY PLATT THE INVISIBLE WOMAN
A VIRTUAL FILM-WATCHING AND INSTAGRAM LIVE CONVERSATION SERIES WITH KARINA LONGWORTH + VIDIOTS
MAY – JULY, 2020
Vidiots Foundation is proud to team with Karina Longworth, film historian, creator and host of You Must Remember This podcast, and Vidiots Founding Member, for a VIRTUAL FILM SCREENING SERIES, running Tuesday, May 26 through Tuesday, July 28, 2020. Follow @karinalongworth and @vidiots on Instagram for more information! Past conversations can be found archived on the Instagram account of @youmustrememberthis.
The virtual screening series will follow the new season of You Must Remember This — Polly Platt, The Invisible Woman. YMRT listeners, Vidiots fans, and classic movie buffs are invited to watch a movie every week, handpicked by Karina and Vidiots, that relate to the week's podcast episode. Every Tuesday during the series they'll be on Instagram Live at 6:30 PST/9:30 EST to discuss the movie and that week's episode with fans, and special guests.
Films include:
May 26: ONE-EYED JACKS with guest Maggie Mackay, Executive Director, Vidiots Foundation
When Polly Platt was a kid, she sought escape from her troubled home life by going to see Westerns. At age 20, in the midst of paralyzing grief, she saw One-Eyed Jacks — directed by and starring Marlon Brando — and the experience made her take action to follow her dream of working in movies.
June 2: TARGETS with guest Karyn Kusama, Filmmaker
Polly Platt got her first story and production design credits on her then-husband Peter Bogdanovich's feature directorial debut, a bone-dry, bare-bones thriller about the real horror — ie: mass shootings. Platt found the locations and designed the total look of the film around an aesthetic that, as she put it, "I thought would make a murderer out of me."
June 9: THE LAST PICTURE SHOW with guest Christina Newland, Writer
While he and Polly were making this now-classic, Oscar-winning film, Peter Bogdanovich began an open affair with actress Cybill Shepherd. Humiliated though she was, Polly felt so much ownership over this movie that she refused to leave the production.
June 16: WHAT'S UP DOC with guest Paul Scheer, Comedian/Writer/Actor
Though their marriage was over, Polly Platt agreed to production design her now ex-husband's next two movies, What's Up Doc (1972) and Paper Moon (1973). What's Up Doc would be an anomaly in Polly's filmography as a production designer: a trailblazer in American realism, here Platt went all in on designing a live-action cartoon.
June 30:  PRETTY BABY with guest Molly Lambert, Writer
Platt began a major career transition with this controversial film, which she wrote and produced. Though set in a brothel in early 20th century New Orleans, Pretty Baby is infused with much of Polly's own autobiography, and shows how deeply she was grappling with her feelings of abandonment—and worries that she was abandoning her own children.
July 7: TERMS OF ENDEARMENT, with guest Julie Klausner, Creator and co-star of Difficult People and co-host of Double-Threat, a new podcast with Tom Scharpling 
A decade after her creative partnership with Bogdanovich ended, Platt began a new collaboration with an incredibly talented writer/director: James L. Brooks. This was the perfect job for Polly; many of those close to her believed that the novel that the movie was based on had been at least partially inspired by her.
July 14: THE WITCHES OF EASTWICK, with guest Durga Bose-Chow, a writer and editor whose collection of essays, Too Much and Not the Mood was published by Farrar Straus & Giroux. Bose-Chow's work has appeared in Vanity Fair and The New York Times Magazine, among others. 
Polly Platt's last film as a production designer — a job she took after she had established herself as a writer/producer and announced her intention to direct –– also features the most production design of her career, as she matched her instinct for visual storytelling to the format of the 80s special effects blockbuster.
July 21: Episodes 9 + 10 + Season Wrap-Up with Karina Longworth and Vidiots Executive Director Maggie Mackay
More about Karina and YMRT: Karina Longworth is a film critic, author, and journalist based in L.A. Longworth writes, hosts and produces the podcast You Must Remember This, about the secret and/or forgotten histories of Hollywood's first century. Since launching as a passion project in April 2014, YMRT has become a critically acclaimed top podcast. "Ms. Longworth has hit on a peculiar sweet spot, where Hipsterdom meets Turner Classic Movies!" — The New York Times; "This podcast will change the way you think about movies" — Esquire Magazine; "Deep research, delicious tidbits & eyebrow arched narration!" —Flavorwire. The newest YMRT series stars Polly Platt — producer, writer and Oscar-nominated production designer — who lived an epic Hollywood life. If you know Platt's name today, it's probably because in 1970 her husband and creative collaborator Peter Bogdanovich had an affair with Cybill Shepherd while shooting the film that launched their careers, The Last Picture Show. But Platt was much more than a jilted wife: she was the secret, often invisible-to-the-public weapon behind some of the best films of the 1970s, '80s and '90s. Drawing on Platt's unpublished memoir, as well as ample interviews and archival research, The Invisible Woman will tell Polly Platt's incredible story from her perspective, for the first time. Learn more about the podcast at youmustrememberthispodcast.com.
OUR CODE OF CONDUCT
Since its opening in 1985, Vidiots has been an environment free of harassment, discrimination, racism, sexism, and threatening or disrespectful behavior. We reserve the right to revoke, without notice or refund, access to our events and facilities to those who engage in any such conduct. This Code of Conduct applies to everyone at our host venues, and participants on our social media channels and in virtual events. Guests, staff, volunteers, vendors, and all participants are held to the same standards. We thank you in advance for your kindness and thoughtful behavior.